Incy Wincy
Challenge #108
22 Aug 11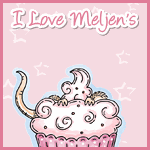 This week we are being sponsored by
Meljens Designs
. These images are to die for!! The are just so adorable. You don't want to miss out on this challenge, because the winner gets their choice of 4 digi's!! Now on the deets of this challenge. We want you to make anything but a card.
For my project, I went with wooden wall hangings. Well, one wall hanging and one door knob hanging. I couldn't decide which one I liked better, so I went with both of them. This seems to be something I'm really getting into making!! For the top one, I used the "Berry Happy" digi and the second one I used the "Frosty Face" digi.
For this one I used Copper acrylic paint as the base coat and Antique White as the top coat. With this digi having words, I had to print out the digi, trace over it with tracing paper and then flip the paper to trace it again. You need to make sure that when you are tracing whatever you are using, make it dark, so that when you flip it to trace it again, the pencil shows up enough to follow the lines. (And yes, I did cheat and not draw it freehand). I outlined everything with a .03 permanent marker and filled in all the dots and hearts with stickles. To finish it off I drilled tiny holes for the wire to hang it up and glued on the flower, leaves and raffia. The flowers are from Prima and the leaves I cut out with a large petals punch from Punch Bunch. I have it hanging on my front porch to great our visitors.
Here's my second project. It's a winter door hanger. For this one I just painted it in Antique White. The top words is a separate digi that was a freebie from last year. I used the method from the one above. For the snowman head, I also traced it on the wood, but cut it out using my scroll saw. Instead of using the markers on this one, I used the acrylic paint so that I could get the blending to look better. I also added the stitching in the thin black marker.
Here is a close up of each part. Hope you enjoy them.
Challenges entered:
Challenge up your life
#50-no patterned paper
Designed 2 Delight
Anything goes
Just Us Girls Challenge
color