This week we want you to recycle something for your project. Here's what I recycled...a pizza box. I found some old writing paper, so I cut those in half and that's how I got the size for my book.
****Remember****--You must say what you recycled to be in the running for a prize!!
I folded the pizza box in half, with a half inch fold in the middle, punched the holes, and wrapped some 65# paper around it from The Paper Co. That gave me my "book" part. For the outside, I used this cute little digi from
Prairie Fairy Designs,
called "Cowgirl Gillian". I colored her with my Copics, cut her out and put her on paper from
Heather Jolly's
"Lone Star" kit. The gun, button (bottom-right) and wanted sign are also from the kit. The "Wanted Poster" is suppose to be a poster, but it didn't fit, so I cut it and added a few more burn marks. The other button and metal piece are from my stash.
Here you can see the tabs sticking out. I broke it down to challenge days of the week, my DT challenges, and my GDT challenges. I put 2 on a page so it gives me enough room to write down what I used for each chal. Then it's easy to go back and look when I post it on my blog... This helps keep me organized. I mark when a card is done and then when I post it on my blog, so I know where I am with them....

Prize is a $15 GC to the store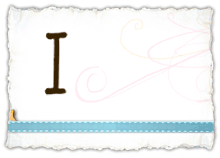 Challenges entered: